Sweyn Forkbeard
Sweyn Forkbeard was the 1st Viking King of England in the year 1013. His son was King Canute (Knut) "The Great". Sweyn Forkbeard was famous for his conquers, beard and immaculate hair even in battle.
In 2015, following research in England, Denmark and Norway, we created our famous recipes. Our male grooming products are 100% Organic and inspired by the natural ingredients used by Vikings and English men in 1013.

We have received many awards since 2015 that recognized our efforts to continue producing handmade products and in London.

We have been awarded Men´s Grooming Brand of the Year 2023-2024 by Prestige Awards.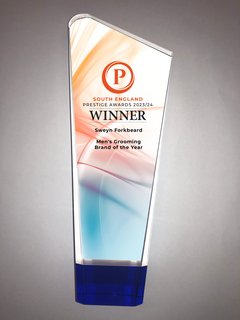 On 2023, we received the Award of Excellence in the Male Grooming Category by E2 Media.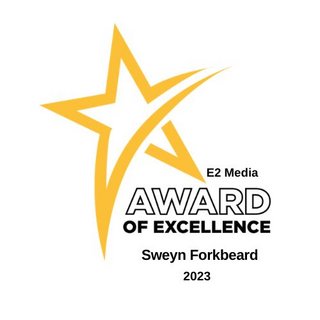 We have been awarded the 2022 Male Grooming Brand of the Year by Prestige Awards.


On 2022, we were awarded Male Grooming Brand of the Year by Lux Awards.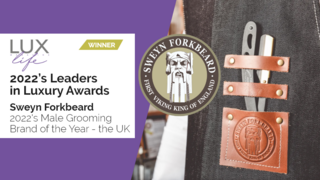 We were awarded 2021´s Best Organic Beard Care Brand - the UK by Lux Magazine Life (Luxury Awards)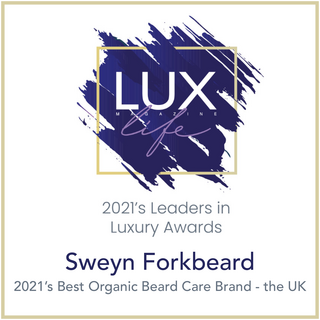 We produce more than 200 Male Grooming Products 100% Organic & Handmade in London (Beard Oils, Beard Balms, Beard Butters, Beard Shampoo, Beard Conditioner, Moustache Wax, Shaving Creams, Shaving Soaps, Face Wash, Face Lotion, Eye Gel, Face Scrub, Clay Pomade, English Shaving Oil, After Shave Balm, Cooling After Shave Gel, Soaps, Lip Balms, Perfumes, T-Shirts, Beard and Moustache Combs and brushes, Straight Razors, Safety Razors, Cut Throat Razor, Barber Vest, Aprons, Barber Tool Roll and some amazing Gifts Sets packed in wooden boxes)
Sweyn Forkbeard is for the man who fights every day in the globalized world without losing his chivalry and masculinity.
If you are in London, you are welcome to visit our Shop and Showroom in Units 606-607 Camden Market, Chalk Farm Rd, London, NW1 8AH, United Kingdom. Find us using the 3words app: pillow. puzzle.keys
What´s the Big difference with our Products?
All of our products are Handmade in London using top quality ingredients. Our products are 100% natural and organic, without parabens, sulphates, artificial fragrances or colours. Ideal for all skin types, including sensitive skin. All our ingredients are vegetal origin so are suitable for vegetarians and vegans, and of course, has not been tested on animals. We are planet friendly brand.
We became the first company selling male grooming products in the iconic Camden Market as well as Jubilee Market Covent Garden, London. Every year Sweyn Forkbeard shares experiences with more than 75,000 men from all over the world. We know absolutely everything about men´s beards, skin, and hair. Sweyn Forkbeard also encourages exclusive, face to face experience sharing between our team and you. Every day we listen and learn from you. We improve our formulas and create new ones with You in our minds.
We created world´s first Refill Service for male grooming products. More information here.
Our Beard Oils are specially formulated for your beard and skin underneath. It reduces itchiness and flakiness of skin, promotes thicker and faster hair growth, tame flyaway hairs, repairs split ends, and make your hair softer to the touch. Natural oils softens the beard, and Vitamin E content helps to protect your skin from external effects. Our Beard Oils will leave your beard looking and feeling heathier and manlier.
Our Shaving Creams, Shaving Soaps, Shaving Oils and After Shaves do not contain alcohol hence are perfect for sensitive skin. Natural ingredients will give you an amazing razor´s glide. Our Shaving Creams are rated 9.9 in Razor´s Glide by Wet The Face famous Blog.
Our Traditional Clay Pomade became the 1st. Pomade 100% Organic in 2015.
Our 100% Organic Ingredients:
Organic Oils: Argan, Jojoba, Castor, Avocado, Hemp, Baobab Seed, Pumpkin Seed, Pomegranate, Andiroba, Nigelia Sativa, Rice Bran, Abyssinian, Coconut, Almond and Vitamin E.
Organic Essential Oils: Cedarwood, Scotch Pine, Sandalwood, Cypress, Ylang Ylang, Jasmine, Juniper Berry, Lemongrass, Neroli, English Lavender, Tea Tree, Fir Needle, Amyris, Eucalyptus, Peppermint, Spearmint, Rosewood, Vetivert, Sweet Orange, Mandarin, Cinnamon Bark, Lime, May Chang, Lemon, English Rose.
Organic Butters: Shea, Mango, Jojoba, Cocoa, Coconut, and Avocado.
Organic Wax: Beeswax.
Handmade Natural Fragrances: Madagascar Vanilla pods, Tobacco Leaf, Mango, Papaya.
Our Soul:
We love to be in the streets, close to real Men. Online is great, but we love the "Face To Face" contact.
We support many Charities and make special donations to the people that need help. We do this by creating special products which benefits go to a Charity, donating products for charity events, etc. We are a small company but doing big things thanks to you.
Customers Reviews:
"To be honest with you the best beard oils I have ever tried. And the beard shampoo is amazing. Highly recommended for daily beard care" Paul, United States
"Impressive lather, best razor´s glide. Simply Wow. Top quality Shaving Cream. Thanks guys" Sigred, Germany
"The Sweyn Forkbeard Beard Shampoo is a revelation. Have a beard? You need to own this, you won´t look back" John, UK
"Having used this for a month or so, I can happily confirm that Sweyn Forkbeard Beard Balm is amazing stuff. If you have a beard you should buy some" Simon, Denmark
"The Shaving Cream Vanilla & Tobacco Leaf is the best ever. I love the scent to Vanilla & Tobacco Leaf" Marco, Italy
"The skincare products smell amazing and my skin feels really good, no more oily products" Alex, UK
"Best Moustache wax I´ve ever used. I have 4 years using it!" Rick, UK
"Awesome Viking T-Shirts, love the designs" Raphael, France
"This Beard Shampoo did leave my beard feeling softer and not as dry, it turns out that this beard shampoo that is created for the beard is better than a standard hair shampoo" Francisco, Spain
"Absolutely love your Beard Oils and the first Beard Balm I´ve ever really liked!" Daan, Netherlands
Stephanie G. from France: I bought a Wooden box for Wet shave for my husband and he told me that is the best Shaving Cream and After shave.

Shipping Information:
FREE SHIPPING IN THE UK.
We offer free worldwide shipping for orders over 50 pounds (Use the code: WORLDWIDE at checkout). We ship all the orders the next working day with EVRI or Royal Mail.
UK Orders: 2-3 working days
European Union: 7-10 working days
International Orders: 10-25 working days
Our Social Media:
Instagram: @sweynforkbeard
Facebook: sweynforkbeardtheking
Twitter: @sweynforkbeard2
Pinterest: sweynforkbeard1
YouTube: Sweyn Forkbeard

TikTok: @sweynforkbearduk